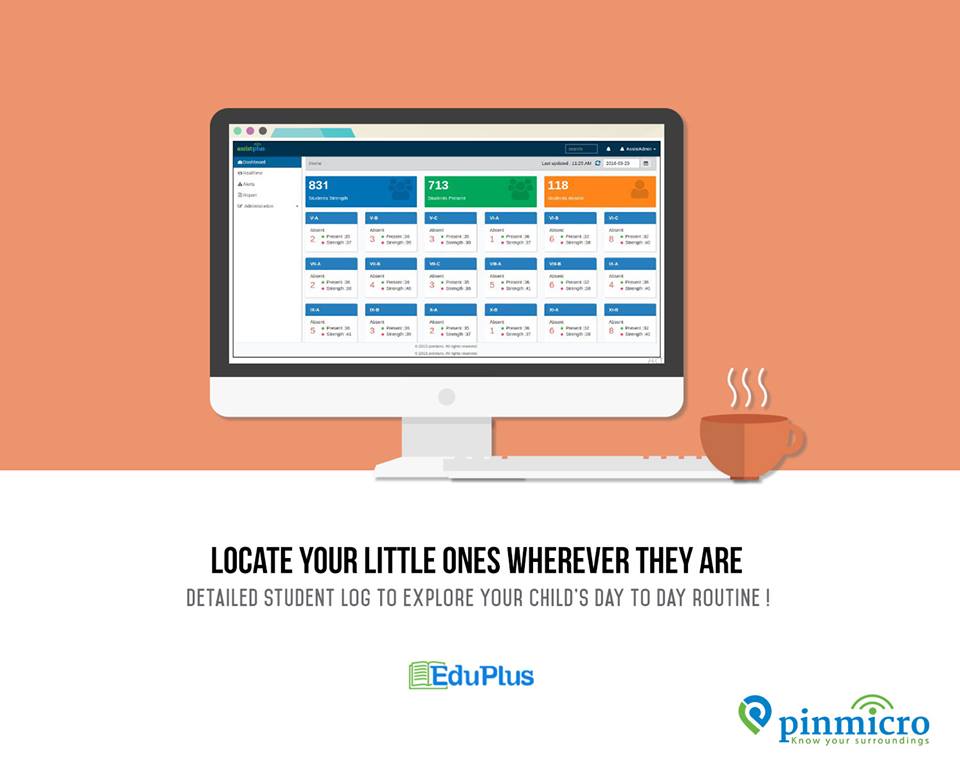 A greater sense of security in schools can be achieved when parents come up with worries and anxiety regarding their children, the later arrivals, the miscommunication with the school authorities, and so on. In this context, we introduce you to EDUPLUS, the smart solution that PINMICRO provides. Of course, you'll want to ensure that whichever location identification system you purchase, it works efficiently and covers all the security features. PINMICRO's EDUPLUS feature allows parents to ensure their children's safety and know where they are at all times by tracking their location. For complete grasping of the idea, it is very essential that we get to know the different parameters that get involved in the process. So here is a brief insight into the safety features that we offer for keeping the children's whereabouts. Eduplus, the best school management solution focuses on child safety and digitalization of school operations
To define where the children are at a period of time, we establish a virtual contact with the parents through alerts, notifications, messages, live info, and field scan. In short, it never lets you miss out on any activity of your child.
Parents also get instant alerts when the child boards the bus, leaves the bus when a school bus is not on the exact school route. The route info provides digital data for the parents as they get to know about the exact location of their child. The comforting factor is the alerts received via app/web as soon as your child withdraws the premises defined by the school, or if a child is bunking classes in school timings. Parents get notified at least twice in a day so they can relax and concentrate on their work. EDUPLUS tracks individual identity and sends programmed notifications to phone numbers, reports attendance, and stores data in automated digital form. The real-time tracking results in a dashboard with all parameters listed for parent access and review. The report section shows extracted patterns, trends, and actionable information from a large set of data. In addition, it also shows the fully automated overall summary of class attendance. Computerized attendance reports and live tracking help avoid any unwanted incident that could happen to your child. EDUPLUS is, therefore, one active, effective, and operative solution in the school ministry.  High-quality real-time tracking makes Eduplus the best school management solution.
Our technology is full of incremental advances, and are true milestones. PINMICRO is the only company in Kerala that has won TiE 50 Award and is the first choice of position awareness technology for 2020 Tokyo Olympics partners. Thus, with its varied solutions, PINMICRO emphasizes on accuracy, efficiency, safety, and security, having no match in these parameters.
For more details, visit www.pinmicro.com